Bass Fisherman's Wallet: Rapid Strike
Here's one fish that won't get away! This bass fisherman's leather wallet is a first-ever of its kind, featuring full-color reproduction art by tournament fisherman and award-winning wildlife artist Al Agnew. It is sure to spark conversations and tales of the outdoors every time you use it. This Bradford Exchange exclusive is handcrafted of rich brown leather that's ruggedly strong, yet soft. Accent stitching gives wallet added style. The inside is embossed with the words "Rapid Strike," and has plenty of compartments for money and credit cards, along with a clear plastic pocket window for your identification. It makes a unique fisherman's gift. This is one fish that's easy to reel in, order now!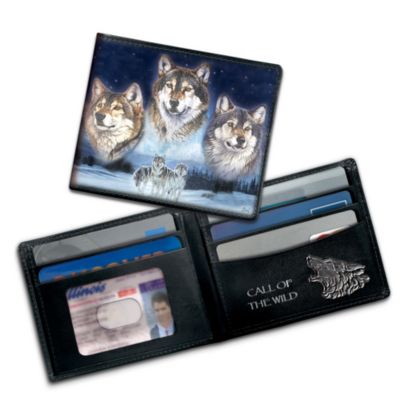 Leather Wolf Art Wallet: Call Of The Wild
Their majestic and wild nature is captivating! Whether you're an enthusiastic outdoorsman or a nature lover, you'll enjoy carrying this first-ever leather wolf art wallet featuring a full-color reproduction of award-winning wildlife art by artist Al Agnew. On the outside is a compelling image of three beautiful wolves in their natural element. Handcrafted of strong, black leather, with accent stitching for added style and durability, yet it's soft to the touch. Inside this Bradford Exchange exclusive is an embossed wolf bust along with the words, "Call of the Wild." There are ample pockets to hold your money, credit cards and a clear plastic pocket window for easy access to your identification. People will see your love of nature each time you use this wallet. Order now!