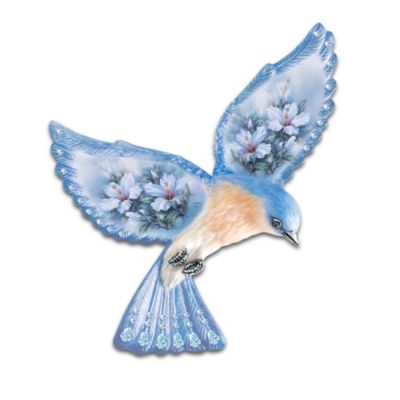 Breathtaking In Blue Porcelain Wall Decor Art
Let your spirit soar with this breathtaking bluebird wall decor featuring the delicate floral imagery of award-winning artist Lena Liu! Available exclusively from The Bradford Exchange, this sculptural bluebird reveals Ms. Liu's colorful floral imagery on its graceful, outstretched wings. A classic symbol of happiness, this cheery bluebird combines with luminous garden art to bring the uplifting beauty of nature into your home each day!This beautifully porcelain sculpture sparkles with more than 35 simulated gems and touches of gleaming platinum. Plus, meticulous handcrafting and intricate low-relief sculptural details bring the bluebird to life with realistic texture and color! Strong demand is expected, so don't miss this limited-edition keepsake or gift. Order now!
Lena Liu's Garden Gems Wall Decor Art Collection
Celebrate the luminous beauty of nature with this songbird wall decor collection available only from The Bradford Exchange! Showcasing the breathtaking floral imagery of award-winning artist Lena Liu, this stunning collection features songbird favorites including the bluebird, cardinal, goldfinch, blue jay and more. Your collection takes flight with Issue One, Breathtaking in Blue. Soon, the collection will continue with Issue Two, Radiant in Red and additional songbird wall decor, each a separate issue to follow.‡Each fine porcelain wall hanging decor art features a graceful songbird, its outstretched wings graced with Lena Liu's exquisite floral art. Hand-painted and Fully hand-sculpted and handcrafted, each bird features dozens of sparkling simulated gems, gleaming platinum accents and bas-relief details that add to the beauty and authenticity. Strong demand is anticipated for this limited-edition collection, so don't miss your chance to enjoy lovely garden scenes all year long. Order now!