[an error occurred while processing this directive] Donate to the
American Red Cross
Disaster Relief

Seal Male




3 Red
Persian CPC
Males




Blue
Persian
Hugs




Blue Cream
CPC Persian
Female



Blue CPC
Persian
Male



Seal Point
Male




Loafing
Around


Sparky

At 6 weeks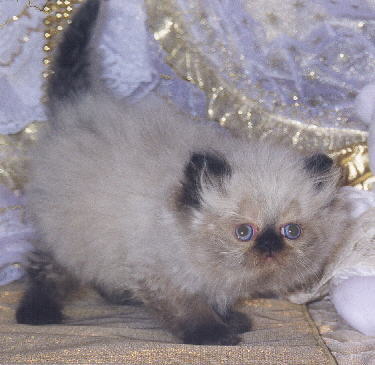 At 6 Months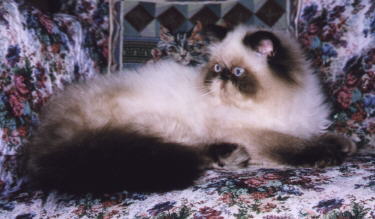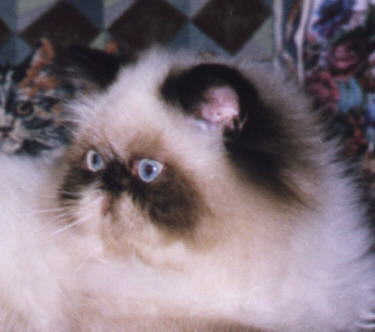 Seal Point Himalayan Male
Breeder / Show Quality
Date of Birth: 2/24/99
Same pedigree as Michaelangelo, will also be the same "type". A real sweet talker, super purrsonality, good doming, great eye color; a vivid blue, cobby body, short legs and tail, undercoat is ivory white, so adult coat will be the more desirable ivory white.

A Note from the Webmaster:
A few weeks ago I visited with my Mom, Sue Dahlstrom of Katsation Cats, in Chicago. This kitten is 6 months old now, I have been urging her to take some new photos. He is filling out beautifully! His ears are wide set, his coat is long and plush, his eyes are a deep blue, and he is one of the most affectionate cats I have ever seen! The whole time we were there he just wouldn't leave me alone.. whenever I sat down he would climb up in my lap and sometimes onto my shoulder just purring away. If you are looking for a show quality seal point, look no further!
Judy

Update: This Seal Point has now been named Sparky. I named him Sparky because he has the personality of a devoted puppy always wanting to please and he demands constant attention.
Sparky has been sold to Joanne Maser of Jodens Dolls Cattery.
Joanne Writes:
Sparky's CFA slip has been sent in. He is now known as Katsation Sparky Of Jodens Dolls. He is adjusting pretty darn well. This morning he was walking around calling, I suppose for you. After we picked him up and held he was contented. Actually I see now that you held and carried him alot. He licks chin, hand, anything in his tongues path. Purrs very nice.
Sire: Champion Katsation's Kurrent Affair
Dam: Champion Purrsuits Fortune Wee Love of Katsation

Sue Dahlstrom
E-mail: sue @ katsation.com
Phone: 1-708-756-2074
Congratulations Aljona
[ Home ] [ Adult Cats ] [ Kittens ] [ Kittening Tips ]
[ GR. CH. Mistekatz Sunshine Superman ]
[ Katsation Himalayans New Photos August 9, 2015 - Free toys, food
samples and "kitty go home" blanket with the purchase of a Kitten! ]
[ Kitten Tips ] [ Letters Of Recomendation ]
[ Silly Kitty Stories ] [ "K" Names ]
[ Contact Sue ] [ View Guestbook ]

The Pet Rescue.com ~ The Humane Society.org


[ The Catteries & Kennels ]
include("../includes/petfooter.html") ?> include("../includes/kidsfooter.html") ?> include("../includes/homefooter.html") ?>
For product prices, availability and/or order
information, please click on the photo or text
link for that product.
Thank You!
Please see Our Contact Information Page,
to find out how to contact each of the catteries
associated with Katsation.com.
Thank You!
Katsation Himalayans New Photos - Free toys, food
samples and "kitty go home" blanket with the purchase of a Kitten!


Katsation's Main Index
Any and All suggestions welcome.
Copyright © 1997-2021 All Rights Reserved.
Privacy Policy
Day or Night Design Tyme